2017-09-30 21:06 - Gaming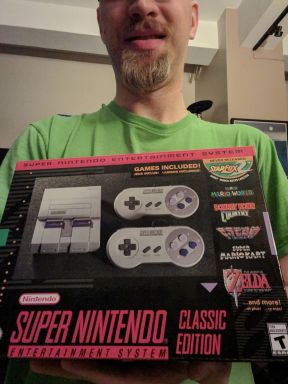 Nintendo released their NES Classic last year, and the shortages were famous. The SNES classic was just released yesterday. I spied a few lines outside on my way to work, but couldn't really afford to join. I looked a bit online and indeed everything was sold out everywhere. Then I spied a tweet from the Nintendo NYC store, past 6PM, saying they were out today (yesterday) but tomorrow at 9AM (today) you could get in line again.
I ended up awake a bit early, anyway so I headed out and was in line by 8:30. The line was already huge. It took nearly three hours for me to get to the front, but I did, and I might regret it just a hair, but I'm happy overall!